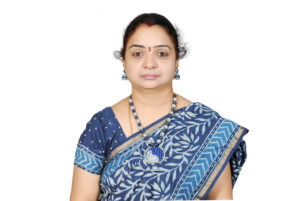 I am Dr.Anupama Ryali, presently an Associate Professor & Head, School of Vedic Sciences, MIT-ADT University, Loni, Pune.
I worked as a Post Doctoral Research Fellow-U.G.C., under the mentorship of Prof.Amba Kulkarni, in the department of Sanskrit Studies, University of Hyderabad, Hyderabad.
I pursued my doctorate in Sanskrit Sāhitya on the topic "bṛhattrayyām trivraga samālochanam," under the guidance of Prof. Rani Sada Siva Murthy, at R.S.Vidyapeetha, Tirupathi, during the period 2003-2005.
I am from the background of Sanskrit Sāhitya and have a good length of teaching experience in the Sanskrit language for more than 15 years in various Under Graduate and PG institutions including The Central University of Hyderabad and also got qualified in National Eligibility Test (NET) conducted by U.G.C.
Apart from this, I am well trained in developing Sanskrit e-texts/e-readers. As a part of my postdoctoral work, I developed a Sanskrit e-text of Śiśupālavadha of Māgha (Pūrvārdha). The reader is available at http://scl.samsaadhanii.in/scl/
Thus I can guide or train students and scholars to work on Sanskrit literature and also on the lines of educating them to develop modules for Sanskrit texts, which is a very much upcoming arena of the field. I also worked as a Post Doctoral Research Associate in projects of national and international level that include Sanskrit Hindi Machine Translation, sponsored by MCIT, Government of India, and also in collaboration with the University of Hyderabad in an international project titled: "Enhancing Access to Primary Cultural Heritage Materials of India: Integrating images of literary sources with machine-readable texts, lexical resources, linguistic software, and the web," funded by the U.S. National Endowment for the Humanities, aims to preserve and improve access to manuscripts of the Mahābhārata and the Bhāgavata Purāṇa, housed at the Brown University and the University of Pennsylvania, U.S.A., during the period 2010-12. The said work is available at http://www.sanskritlibrary.org/
I have a good number of worthy publications of the books, e-readers, research papers, articles of inter-disciplinary subjects published in reputed and peer-reviewed national and international research journals and conference proceedings.
I am a member of BOS in various educational institutions.
I was a recipient of three gold medals in M.A. Sanskrit for being a topper of the university. As a Sanskrit Scholar, I always have a quest for Sanskrit research and teaching.
If given an opportunity, I would always like to extend all my strength and energy in the field of Sanskrit, as a field expert, in paving a way to have easy and comfortable access for appreciation of the Indian literary legacy.